Jakarta –
The implementation of the Community Activity Restrictions (PPKM) has been extended until next August 2. If later there is an easing or there is a decrease in levels, these five selected natural tourist destinations can be visited by travelers.
Indonesia has well-maintained natural ecosystems, with rainforests accounting for 57% of Indonesia's total land area. Forests located on the islands of Sumatra and Java are also popular targets for tourist destinations.
Not only forests, Indonesia is also one of the countries that has the longest coastline in the world, which is 54,716 kilometers with a number of beach resorts and islands, such as Karimunjawa, Togian Islands, and Banda Islands.
Unfortunately in the last two years, traveling to various natural tourist destinations is not recommended. With the PPKM, which has made many tourist attractions temporarily closed, as well as concerns about the uncertainty of this pandemic, of course, you also feel that it is not safe to travel at this time.
The following is a list of five natural tourist destinations that you can visit if PPKM is relaxed:
1. Panyaweuyan Terrace, Argapura, Majalengka
West Java Province is known to have many beautiful and beautiful natural scenery, one of which is the Panyaweuyan Terrace located in Argapura District. Terracing is a pattern or technique of farming with a stratified system as an effort to prevent soil erosion.
Panyaweuyan Terrace Tourism, Argapura District, Majalengka Regency, West Java. Photo: Dadan Kuswaraharja
The terrace, which is located at the foot of Mount Ciremai, stretches wide as far as the eye can see, formed by steps that are very close in size or with the same size for each part of the hill. If you want to visit this beautiful terrace, there is the closest inn, namely RedDoorz Plus Near Majalengka Hospital which is only 16 kilometers from the location.
Kaolin Lake (Photo: RedDoorz/Special)
2. Kaolin Lake, Belitung, Bangka Belitung
Located on Belitung Island, Bangka Belitung Province, Kaolin Lake is a destination that was formed in a former kaolin mining area. Kaolin itself is an industrial raw material in the form of rock or white clay.
Kaolin is commonly used for the manufacture of ceramics, medicine, coated paper, cosmetics, and toothpaste but is mostly used for the manufacture of porcelain. The first impression that comes to seeing this area of ​​​​the lake is, like being in Antarctica, seeing this many unusual white scenery.
Kaolin Lake is close to RedDoorz Plus @ Tanjung Pandan Belitung 2, if you need lodging in Belitung when you visit later.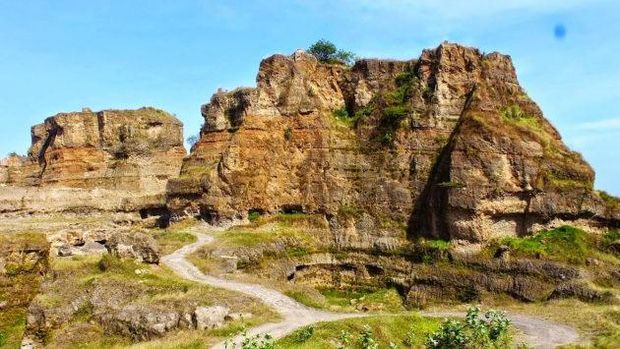 Brown Canyon (Photo: RedDoorz/Special)
3. Brown Canyon, Tembalang, Semarang
Brown Canyon is a former mining site in Tembalang, Semarang. This location is one of the interesting locations and is considered similar to the Grand Canyon in the United States.
This resemblance lies in the hills that turn into steep cliffs. Actually, Brown Canyon is not an official tourist destination from the government.
However, the uniqueness of this location attracts a number of tourists to take pictures as if they were in the Grand Canyon, United States, suitable for a wishlist that you can visit later.
For additional information, RedDoorz near Semarang Police Academy or RedDoorz Syariah near Banyumanik Toll Exit can be your accommodation recommendation in Semarang and very close to Brown Canyon.
Next Nature Tourism:
Watch Videos"Tour to Sikuai Island, Hidden Natural Beauty in Padang"
[Gambas:Video 20detik]