Jakarta
–
Minister of Tourism and Creative Economy Sandiaga Uno boarded a phinisi boat around Makassar's Losari Beach. Also present, Youtubers Atta Halilintar.
Accompanied by traditional music and dances, his arrival was welcomed by the Mayor of Makassar, Moh. Ramdhan 'Danny' Pomanto with Deputy Mayor of Makassar, Fatmawati Rusdi.
Sandiaga Uno came to Makassar to see tourism destinations and support the implementation of F8 and Makassar Jazz. Sandi sees the revival of economic recovery and as a barometer of eastern Indonesia.
"Events designed such as the F8, as well as the Makassar jazz festival are examples of stretching the wheels of event organization, which open up job opportunities and this is a program that is right on target in the midst of a pandemic, especially for sectors that really need it," said Sandiaga Uno after traveling around using a phinisi boat , Thursday (17/6/2021) night.
Sandiaga Uno and Atta Tour Losari Beach Using Phinisi, Support F8 Photo: (Special)
Sandi said that the implementation of F8 would be the beginning of the revival of tourism from the east. However, Makassar was asked to be prepared by implementing strict and disciplined health protocols.
"I went down, talked to the musicians, they haven't received orders for a long time, so this is a form of our alignment to present a policy that is full of justice. And I see Makassar complying with Prokes," explained Sandi.
Sandi Uno stated that he would fully support and collaborate on tourism activities in Makassar City.
"Of course we have to pay attention to the progress, we have to look at the state of covid, after that I will coordinate with the guardian how the form of our collaboration will take, now we need to adapt and continue to adapt and thank you for being able to collaborate," he concluded.
Meanwhile, the Mayor of Makassar, Moh Ramadhan 'Danny' Pomanto above phinisi explained to Sandiaga Uno, related to the development of tourism potential in Makassar City. There are 8 excellent programs including, monthly mice agenda, tourism destinations, tourism competency skills, superior destinations for the supermonde islands, the development of Lakkang Island, the Paropo cultural village, 5000 tourist alleys and most importantly the re-organization of F8.
"We are still monitoring the spread of covid 19 in Makassar. I presented it in front of the minister, Sandi and he said that F8 must be held again," Danny said.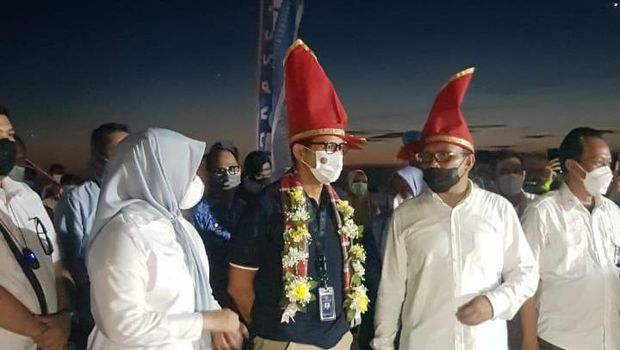 Sandiaga Uno and Atta Tour Losari Beach Using Phinisi, Support F8 Photo: (Special)
With full support, Danny plans to re-budget the budget for the implementation of F8 this year.
"Earlier before getting into the car, the minister said that F8 was very good. It must be implemented. We are still budgeting for this implementation. Even though the government used to be full of work and this year when the pandemic ends, the private sector will step in and the government will help," he said.
Atta Halilintar seemed very fascinated by the beauty of Makassar City. He really enjoyed Makassar's culinary specialties served on a phinisi boat while circling the Losari Sea and accompanied by jazz music.
Watch Videos" AHHA PS Pati, Another Football Club Acquired by Celebrities"
[Gambas:Video 20detik]
(elk/elk)