Jakarta
–
The COVID-19 pandemic has changed many things in the tourism industry. Including for travel mart matters.
The change due to COVID-19 also occurred at the TTC Travel Mart which was held on Monday (7/6) yesterday at the Redtop Hotel, Pecenongan Jakarta. Quoted Bali Tourism from its press release, Wednesday (9/6/2021), the semi-hybrid travel mart event became a new embryo for TTC Travel Mart in looking at business optimism which has entered its 33rd year of implementation.
Tedjo Iskandar as the Founder of the TTC Network (the organizer of the TTC Travel Mart) said that the Semi Virtual TTC Travel Mart was his way of defining the right event format to bring together sellers and buyers during the pandemic.
"The usual hybrid concept to define events that are held offline and online, according to him, is still not right for him," said Tedjo. "TTC Travel Mart Semi Virtual is our perspective and language to give an idea of ​​how sellers and buyers from various countries can meet for business deals," he added.
This year's TTC Travel Mart which was held hybrid (TTC Travel Mart dock)
And TTC Travel Mart Semi Virtual, continued Tedjo, must be held. Because this proves that the existence of TTC Travel Mart still exists, still survives and is able to innovate in the puddle of the COVID-19 pandemic which doesn't know how long it will end.
"Since the initial year of the COVID-19 pandemic entering Indonesia, the 2020 TTC Travel Mart has failed to be held in 2 major cities in Indonesia. During the government's recommendation to stay at home, he formulated how their potential clients stay in business. And TTC Travel Mart Semi Virtual is the answer," explained Tedjo.
Health Protocol Tightening
All aspects and lines of adaptation to the COVID-19 pandemic were studied in detail by TTC Travel Mart. Not only is the capacity reduction of exhibitors (sellers) participating in the tourism fair this time, the space between the sellers' tables is also spaced out as recommended by the government and the COVID-19 Task Force. Health protocols such as 3M are actually adopted in ballrooms which usually contain more than 100 participants.
The reduction in the number of participants resulted in only 18 tables of sellers to meet with their buyers. That's why the ballroom looks empty unlike events before COVID-19 became a nightmare for business people like him.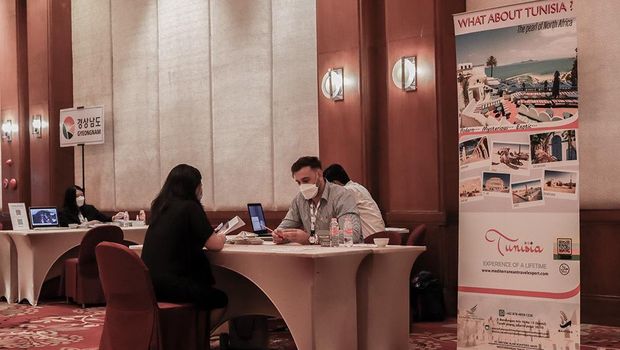 Attended by a number of buyers and sellers (TTC Travel Mart dock)
Before entering the exhibition area, TTC Travel Mart closely supervises both sellers and buyers who will meet online and offline with antigen swabs without exception.
"We have prepared strict requirements for each participant who will take part in this event in advance. So that sellers and buyers feel safe and comfortable," said Tedjo.
Although he admits that the amount of money has decreased, Tedjo admits that he is still able to breathe a sigh of relief. Because, there are 5 new sellers who have been caught in the TTC Travel Mart Semi Virtual this time.
The 5 new sellers include Mediterranean Travel Expert, Lourdes Hotels from France, Gyeongnam from South Korea, Kitaspedia and Baitul Agung Tour Expert from Indonesia.
Some sellers who actually do business virtually include Paris Streets, Lourdes Hotels from France, Magadh Travel & Tours from India, and Horas Tours from Indonesia, the remaining 14 sellers are looking for their fortune offline.
Watch Videos"Chat with Tedjo Iskandar, Indonesia's Senior Tour Leader"
[Gambas:Video 20detik]
(rdy/rdy)