Toba Samosir
–
Minister of Tourism and Creative Economy (Menparekraf) Sandiaga Uno praised the roadside cafe in the Lake Toba area which had been revitalized to be cleaner and more modern. The advantage of this cafe is the landscape of Lake Toba that can be enjoyed from a height.
Adian Nalambok was once just a small shop that was often used as a resting location for travelers around Lake Toba. But now the place has been transformed into a cafe that offers views of the green hills.
The revitalization of Adian Nalambok was carried out by the Ministry of Tourism and Creative Economy in collaboration with the local government and the community. Adian Nalambok itself is one of 34 destinations included in the Lake Toba Super Priority Destinations (DSP) travel pattern.
The destination, which is located between Parapat and Balige, is equipped with a number of facilities, from parking lots to public toilets.
Sandiaga Uno at Lake Toba Photo: (Putu Intan/Bali Tourism)
Sandiaga thanked the Toba Regency Government and the North Sumatra Provincial Government as well as the Marudut Simanjuntak family who had participated in building Adian Nalambok.
He also hopes that Adian Nalambok can become a buffer tourist destination for the Lake Toba DSP in the future.
"December 31, 2020 I was here brought by Pak Ipang Wahid, and wanted a quick move and today it will be realized, I thank all who participated, allowing us to cooperate and oversee this process," said Sandiaga, Thursday (10/6/ 2021).
"It is hoped that there will be one of 34 spots according to Mr. Ipang that has been mapped as spots that will become part of the travel pattern, from point to point in visits to tourist destinations of Lake Toba," he continued.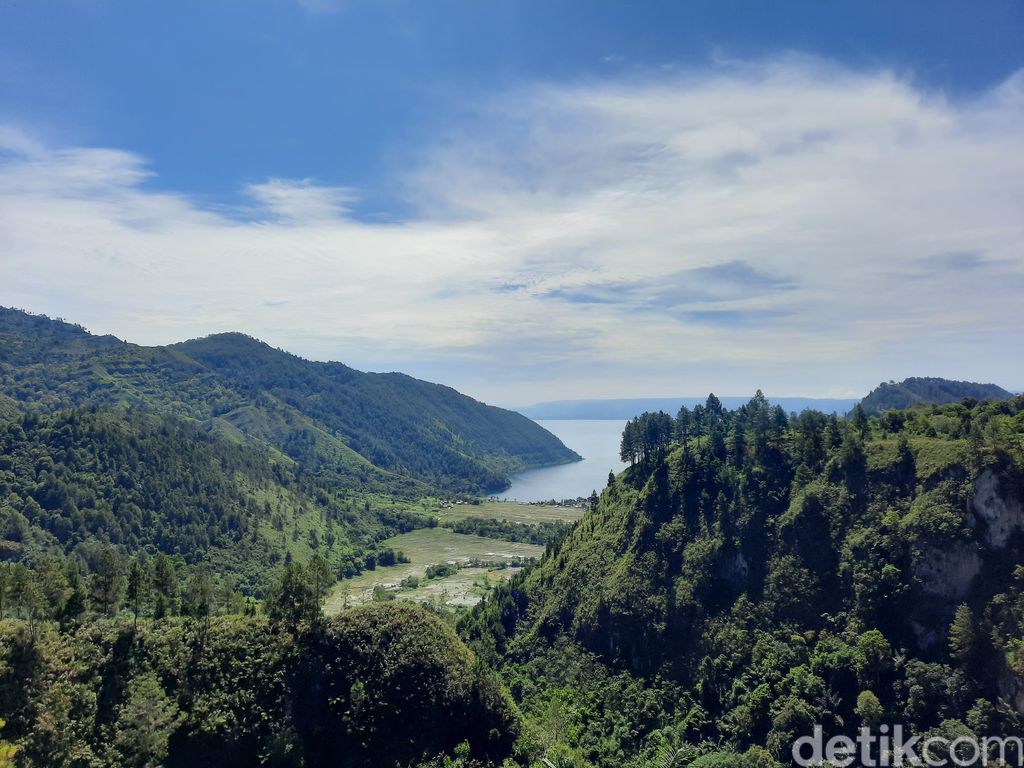 The view from the cafe Photo: (Putu Intan/Bali Tourism)
Sandiaga Uno also wants cooperation to continue in revitalizing the 33 destinations supporting the Lake Toba DSP.
"Hopefully this can all be built with the concept of a Public Private Partnership with a partnership between the Government, the business world and the community," he said.
"Later, Pak Ipang and I will map it out and offer it to the nomads in Jakarta and outside the Batak Land to participate in their homeland or ancestral land, because this is part of building Lake Toba, which must embrace all parties," he explained.
The same thing was conveyed by the Regent of Toba, Poltak Samosir. He expressed his gratitude to the Ministry of Tourism and Creative Economy and the people who have participated in building tourist destinations in Toba Regency.
Especially to the immigrants who are willing to go home and build their hometown at this time.
"We are very grateful to the immigrants who have helped build this, this is what we should emulate," said Poltak.
"At the same time, on this occasion we invite 33 destinations, we are waiting for the arrival of the nomads, let's build our village. Horas," he said.
Watch Videos"Sandiaga Uno Looking For A New Breakthrough For Lake Toba"
[Gambas:Video 20detik]
(pin/sym)