Magelang
–
When visiting Magelang, people tend to visit Borobudur Temple more often. In fact, currently there are many exciting tourist experiences that can be felt, namely traveling around tourist villages around Borobudur while riding a Volkswagen (VW) Safari car.
Representative of VW Tour Borobudur, Santoso said that the VW Borobudur tour was just launched in 2017. His party also provides various packages with different prices.
"So starting with VW tours from 2017. There are many packages ranging from IDR 50 thousand per pax to one day rental of IDR 900 thousand with a rental duration of 10 hours," he told Bali Tourism, Sunday (6/6/2021).
It's Fun to Tour a Tourist Village in Magelang Riding a VW Safari Photo: Inkana Putri/Bali Tourism
In addition, VW Tour Borobudur also offers other packages such as the Regular Tour for IDR 150 thousand per hour, Short Tour for IDR 350 thousand per hour, Medium Tour for IDR 450 thousand per hour and Long Tour for IDR 700 thousand per 6 hours.
Until now, VW Tour Borobudur has 90 VWs located in Magelang Regency with various color choices. In addition, it also provides caping hats for tourists who want to take pictures.
"There are around 90 VWs in Magelang Regency, but in Magelang City there are 100. We also provide 3 caps on each VW car that tourists can use for photos," he explained.
For tourists who want to experience the thrill of exploring tourist villages in Magelang, Santoso said tourists can also order tour packages from various partners. One of them is Arowisata which provides One Day Tour VW Ride Borobudur Magelang.
Arowisata's manager, Gilang, said that currently the package can also be ordered through the ToDo ticket feature on tiket.com. Through this tour package, tourists can not only get around on a VW, but also visit Borobudur to the Chicken Church.
"For this One Day Tour package, you can find it on tiket.com, enter ToDo tickets. First, tourists will be picked up from the hotel, then we will go to VW basecamp at Balkondes Borobudur. After that, we immediately visit two tourist villages to visit for about 2 hours," he said.
Also read: 5 Most Favorite Holiday Styles and Trends for Millennials
For exploring tourist villages, Gilang said there are 30 tourist villages available to visit. However, it frees tourists to choose 2 tourist villages.
Some tourist villages include Kopi Luwak Tourism Village, Honey Tourism Village, Batik Tourism Village, Java Sugar Tourism Village and others. There, tourists can also try to experience the experiences offered by tourist villages such as batik, trying coffee and others.
"The tourist villages around Borobudur will be around later. There are about 30 tourist villages, only on tiket.com we don't mention because there are many. Later on the day our customers will tell us where to go," he explained.
After the Tourism Village, the tourists will return to the VW Tour Borobudur basecamp. There, tourists can eat snacks and drinks that have been provided by the tour.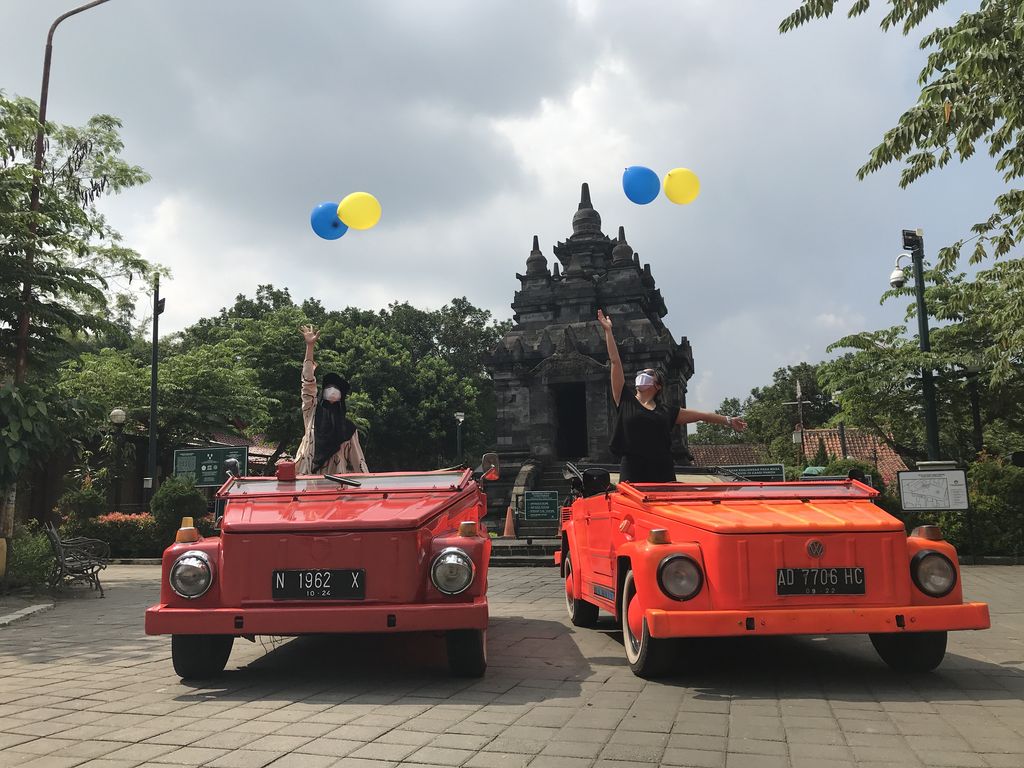 It's Fun To Tour a Tourist Village in Magelang Riding a VW Photo: Inkana Putri/Bali Tourism
After that, tourists will be invited to visit other destinations to be accompanied to buy souvenirs.
Tourists can also take photos at interesting spots during the tour.
"Then, we continue to Borobudur Temple. After that we have lunch and go to the Chicken Church. If participants want to be accompanied by buying souvenirs in Yogya, they can also be accompanied," he explained.
Also read: This is tiket.com's Step to Boost Indonesian Tourism in 2021
Regarding the One Day Tour VW Ride Borobudur Magelang, Gilang said that this package will certainly help tourists when traveling to Magelang. The packages offered also have various prices ranging from Rp. 460 thousand – Rp. 840 thousand.
"So if you use a ToDo ticket, the guest is more focused, there is already an itinerary. Because usually guests are confused about where to go. If this becomes more focused, it's good," he concluded.
Watch Videos"Borobudur Temple Temporarily Closed During Eid Holidays"
[Gambas:Video 20detik]
(ega/ddn)