Pangandaran
–
Classical architectural works always have an appeal. Observing and enjoying the atmosphere in old buildings often draw memories of the past.
In Pangandaran Regency, there is one classic building that is quite famous for the people of Parigi District, namely the house belonging to Tietiek Kartiyamah. The location is not far from the main square in Parigi District.
This classic building is increasingly known after being used as a coffee shop and becoming a hangout place for Pangandaran young people. The classic exterior and interior architecture is an attraction and is often used as a place for instagramable photos.
The room is quite spacious with very large doors and windows, typical of classic buildings. Besides that, the distance from the floor to the roof is quite high. Access to enter there are 3 doors on the front. So that it gives a very strong old school impression.
This building turns out to have a history and is a witness to the long journey of life for the people of Parigi Pangandaran. The people of Pangandaran recognize the function of this building according to their age.
Dudu shop in Pangandaran Photo: (Faizal Amiruddin / Bali Tourism)
Millennial children know it as a coffee shop, those in their 30s know it as a Dudu shop and residents in their 60s know it as the People's School building or former Dutch Clinic. There are also those who know him as a batik cloth shop. However, of the many names for the building, the one most widely known by residents is Toko Dudu.
"I do not know exactly when this building was erected. What is clear is that we want to keep it," said Ria Siti Sadariyah, son of the owner of this building, Saturday (30/1/2021).
He said his mother, Tietiek Kartiyamah was born in 1938 in that house. So he assumed this building had been established around 1900.
"Even in my grandfather's time, this house already existed. There are two buildings, the front one is a coffee shop. Then in the back there is another small building which we call Bumi Alit," said Ria.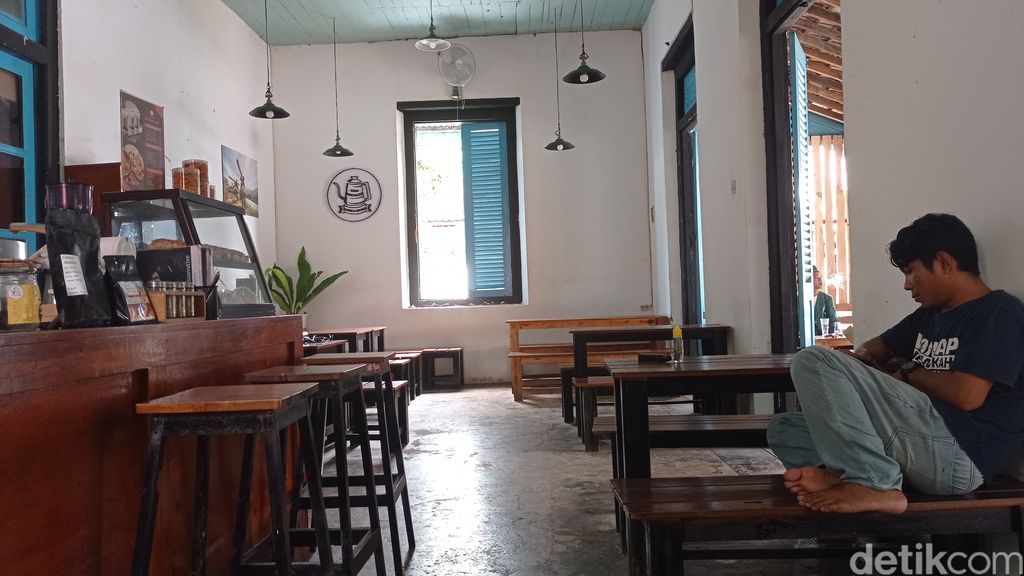 Dudu shop in Pangandaran Photo: (Faizal Amiruddin / Bali Tourism)
Based on his family's story, Ria said that this building was used as the headquarters of the Dutch colonial army.
"My grandparents were kicked out. This house was turned into an army headquarters," said Ria. Then after a few years, it was used as a health clinic for Dutch soldiers. "So Bumi Alit behind it becomes the doctor's office," said Ria.
After entering the era of independence, the building was later used as a people's school. Many elderly residents in Parigi remember learning to read and write in that building. In the early days of the New Order, buildings were used to sell batik cloth. Then it became a grocery store.
"It's called the Dudu shop, because our grandfather's name is Dudu Suparman," said Ria.
After the death of Dudu Suparman, the building was later used as a residence. Only in 2019 was it used as a coffee shop until now. The owner keeps the building in its original condition.
"Once there were officers from the Cultural Heritage advising us to maintain this building. Yes, we do want to maintain and maintain it. Had several renovations, but only the roof. Building materials and wood from the past were good. Strong and durable , "said Ria.
Ria also said that there were countless people who wanted to buy the building. But he and his family have no intention of selling it. In fact, he now has a trick to avoid the persuasion of potential buyers.
"If someone is wondering if I want to buy this house, I often pretend that I am not the owner. I just say, the owner is no longer in Jakarta, I am just a waiter," said Ria. That way, prospective buyers no longer persuade to buy the house.
Asked about his obsession with the classic house, Ria said he had a dream to make the house an educational tourist destination packed into a culinary place and green area.
Watch Video "After the M 5.6 earthquake, visitors at Pangandaran Beach are still busy"
[Gambas:Video 20detik]
(sym / sym)