Jakarta
–
Jakarta continues to improve and the results are quite a lot of points that are right for filling in a traveler's Instagram feed. Check out the recommendations for instagramable and current travel in the capital.
Jakarta does not stop preening so that tourists, both local and international, feel at home. From sidewalks, pedestrian bridges, to markets and tourist attractions, travelers can choose to leave their mark in the capital through photos.
Are you curious about Jakarta's instagramable and contemporary tourist attractions?
Check out the following recommendations for places in Jakarta to take pictures.
1. Gelora Bung Karno Stadium Complex
Gelora Bung Karno Complex, Jakarta. Photo: Agung Pambudhy
The Gelora Bung Karno Stadium Complex (SUGBK) has become even more comfortable to take pictures after being renovated ahead of the 2018 Asian Games. Although the venues are closed to prevent transmission of the Corona virus, there are quite a few open spaces that can be used as photo spots for travelers.
The west plaza and east plaza, as well as the GBK city forest can be a traveler's choice to take pictures. The Kalderon and the statue of Sukarno, which are iconic buildings in the complex, can be a marker for a traveler to stop at GBK.
2. The GBK Pedestrian Bridge (JPO)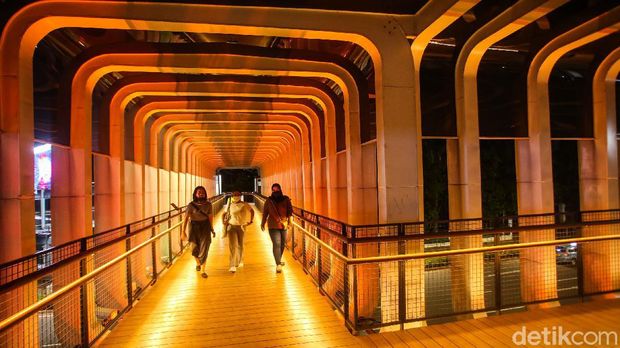 JPO GBK. Photo: Rifkianto Nugroho
Jakarta has a number of iconic JPOs. One of them, JPO at GBK which is on Jalan Jendral Sudirman. Two JPOs near the GBK JPO, namely the Polda Metro JPO and the Senayan Roundabout JPO are also good for taking pictures.
In addition, the Dukuh Atas JPO and the crossing in Sarinah are quite iconic. But, a traveler must pay attention to other users, because this is a public facility and its real function is to cross the road.
3. Kendal Road Tunnel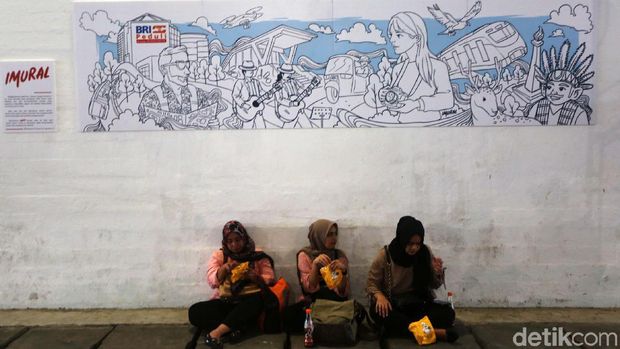 Artists made a mural of the New Face of Jakarta in the Kendal Street Tunnel. Photo: Agung Pambudhy
The presence of the MRT in Jakarta is not only used as a means of transportation. however, the surrounding location has also been improved. One of them is Jalan Kendal tunnel which is located right next to Sudirman Station.
The tunnel has murals and colorful spotlights. A traveler can take advantage of this urban aesthetic as an instagramable and contemporary point to add to your photo collection.
4. The Jakarta-Banten Border Highway
The border between Jakarta and Banten has become popular after the cycling trend has risen. Quite a few groups of cyclists take pictures right on the border of the two regions.
The traveler has stopped there?
5. Kali Besar Kota Tua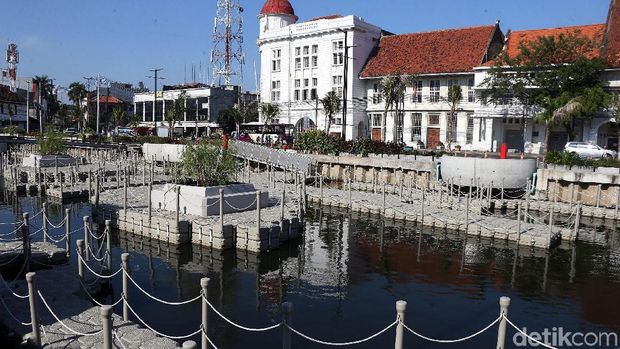 After being revitalized, Kali Besar Kota Tua has become a mainstay spot for visitors to travel. PPSU officers are also ready to clean the area so that it is free of trash. Photo: Rengga Sancaya
Kali Besar Kota Tua has become one of Jakarta's favorite tourist spots after being revitalized. The most striking change is the existence of an ancient building typical of Dutch architecture equipped with a small garden on the edge.
The ancient building made the area even more European. At the same time, the Diamond Bridge was still standing firmly.
5. Sunda Kelapa Harbor
Sunda Kelapa Harbor, Jakarta. Photo: Rifkianto Nugroho
Sunda Kelapa Harbor is a destination for Jakartans to travel. Rows of ships anchored, fishermen and goods carriers, and colorful containers are the perfect places to capture the nuances of Jakarta.
It is recommended, a traveler comes really early in the morning or evening. It's nothing, at noon, the sun is very hot in this area.
6. Bull Field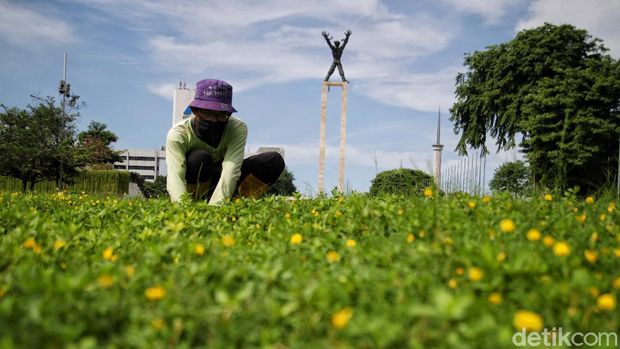 K
The sight of the Banteng Field looks even more enchanting with views of the blue sky of Jakarta. Photo: Pradita Utama
The Banteng Field is one of the open spaces in Jakarta that has recently been revitalized and has become a modern tourist spot in Jakarta.
Here there is the West Irian Liberation Monument which also has a pool complete with a fountain. In addition, there is a tribune for just sitting around as if in an ampitheater.
7. Pavement Thamrin area
Is the sidewalk of Jalan Sudirman-Thamrin cool or not? Photo: Rengga Sancaya
The sidewalks of the Thamrin area are also a location for good photos. Especially at night when the lights are on.
Later, a video of Jakarta with Seoul flavor appeared that went viral on social media. Traveler agrees?
8. Monas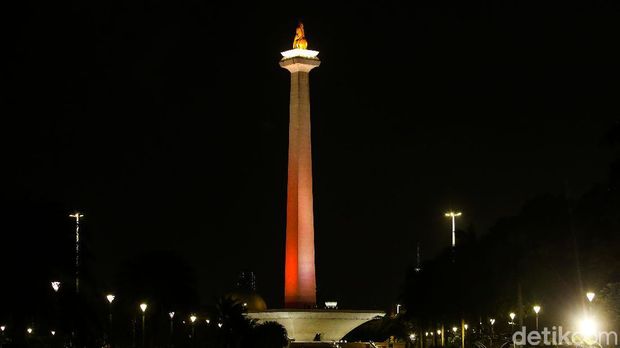 Monas landmark Jakarta Photo: Rifkianto Nugroho
The Monas area, which is a landmark for the capital city of Jakarta, cannot be missed. Not yet to Jakarta if a traveler hasn't stopped here.
Watch Video "Ragunan to Ancol Closed During New Years "
[Gambas:Video 20detik]
(fem / ddn)