Jakarta
–
Unlike in Indonesia, Islam is not the majority in other countries in Asia, including Korea. Therefore, the spiritual journey of the Korean converts is a valuable process that brings them closer to Allah SWT.
Nadia Han, Emir Kim, and Ahmad are some examples of converts from Korea who are now living in Malaysia to build a new life in accordance with Islamic law. With all the differences that must be lived, this is their new life that illustrates the struggle of a minority convert who lives far from home.
1. Nadia Han
Nadia Han or Han Narae decided to convert to Islam since 2016 and moved with her husband to settle in Malaysia. Being a convert and away from home, Nadia has had to adapt to so many changes.
"It takes time, faith, and dedication to learn all of that. Fortunately, my Muslim friends in Malaysia have helped me. So the learning process is easier," said Nadia.
On the bright side, Malaysia is a country with a larger Muslim population than Korea. So, Nadia is more comfortable wearing the hijab and can worship easily. He also sticks to his original Korean culture by cooking Korean food and teaching his children the Korean language.
The Story of Korean Converts Photo: (Have Halal Will Travel)
2. Emir Kim
The first six years as a convert to Islam were not easy for the Emir. At that time, he was still living in Korea and often experienced discrimination. That reason is what made him go to Malaysia to start a new life in 2019.
Living in Malaysia as a Muslim he admits is much more comfortable than in Korea. Apart from halal food and easy access to worship, the Emir can also experience a more festive atmosphere of Ramadan.
2017 was a historic year for the Emir because he performed the Umrah pilgrimage for the first time. For him, the experience was unforgettable.
"This is really the best experience in my life, it is difficult to describe in words. Anyway, if you have the opportunity, do it even if only once in a lifetime," he said.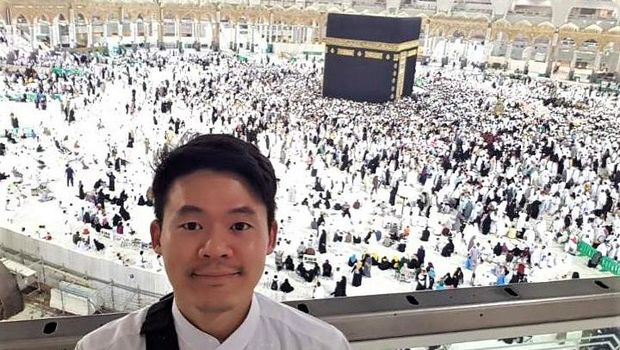 The Story of Korean Converts Photo: (Have Halal Will Travel)
3. Ahmad
Sung Joon Jeon alias Ahmad finally feels the joy of Ramadan after nine years of embracing Islam. He felt this atmosphere after moving to Malaysia in 2019.
His meeting with Islam began when he was studying in Ireland and interacting with his Muslim friend. He was touched by the religion of Islam which is comprehensive and provides guidance in all aspects of life.
"I immediately believed that this is the religion of God Almighty. Without lingering on, I immediately decided to convert to Islam," he said.
Now, Ahmad continues to strive to carry out Islamic teachings and avoid its prohibitions. It is recognized that his daily life, which is now surrounded by more Muslims, makes him more comfortable.
As a Muslim, it is mandatory to leave haram food and drink. Fortunately, now there are more and more international culinary delights that can be enjoyed by Muslims, including various halal Korean restaurants in Jakarta.
Watch Video "South Korea Provides Homes for Couples, Boost Marriage Rates?"
[Gambas:Video 20detik]
(elk / elk)